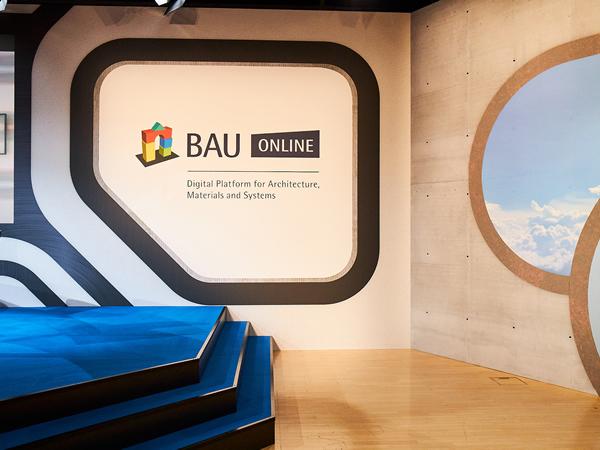 The time is drawing near: on Wednesday, BAU ONLINE will start with more than 230 exhibitors from 28 countries, offering over 1,300 live presentations and 3,500 one-on-one appointments.
Tickets are free of charge. Highlights in the conference program which features 31 forums and will be broadcast in three time zones:
"The construction industry after the coronavirus"
Is the coronavirus changing the way we will build tomorrow? Rethinking or simply "business as usual"—ten perspectives from general planning. Rethinking architecture for health.
Forum Future of Building, January 13, 2021, 11:00–12:15 CET
"Resources and recycling"
Cradle to Cradle engineering in the building. Rethinking architecture—circular solutions along the entire value chain. The Recyclinghaus.
Forum Future of Building, January 14, 2021, 12:30–14:15 CET
"Facing the future"
Technologies that will become reality in the next three to five years, including controlled complexity, energy management, building with wood and paper.
Forum Future of Building, January 15, 2021, 13:00–15:50 CET
"The crisis as an opportunity for change!"
Insights into climate neutrality, digital transformation, circular economy,
Work 4.0.
BAU TV, January 14, 2021, 10:00–10:45 CET
"The digitalization of construction—solutions for the industry's future viability"
How will we plan and build in the future? How do digitalization and the technology shift change the way we work?
BAU TV, January 14, 2021, 11:00–13:00 CET
"Digital village"
Eight start-ups compete in the online voting: Concular, Cosuno, INZEPT3D, Planstack, Spacific, urbanistic, Visoplan, VOXELGRID.
BAU TV, January 15, 2021, 14:45–15:45 CET
"Innovation potential in the construction sector thanks to sensor technology, robotics and AI"
Political framework for digital transformation, robotics in prefabrication and on the construction site, digital construction, artificial intelligence.
STUDIO BUND—live from Berlin, January 13, 2021, 12:00–13:00 CET
"Collaboration—integrative project management in construction"
The power of togetherness in major projects, multi-party contracting model in federal construction, role of insurance, team building.
STUDIO BUND—live from Berlin, January 13, 2021, 17:00–18:00 CET
"Building in times of climate change—experiment and efficiency"
Global natural hazards and fields of action. How fit is Germany for climate change? Planning practice green roof as well as flood and heavy rain.
STUDIO BUND—live from Berlin, January 14, 2021, 17:00–18:00 CET
BAU ONLINE accreditation
Press releases of BAU ONLINE exhibitors