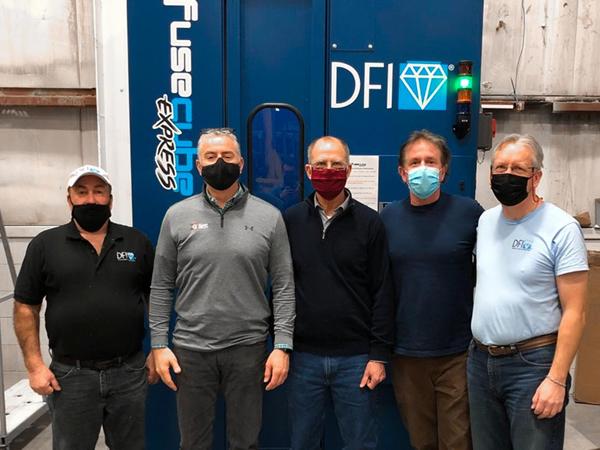 Glass + Metal Craft announces they will protect their architectural glass systems with Diamon-Fusion protective coating through DFI's fully-automated FuseCube Express coating machine.
The Diamon-Fusion coating protects glass against staining and makes cleaning significantly easier.
Glass + Metal Craft, a Michigan-based glass fabricator, announced today it has implemented DFI's FuseCube Express, the market-leading protective glass coating machine for glass fabricators. With glass shops looking to add more value to their glass products, the FuseCube Express streamlines Diamon-Fusion protective coating on both sides of the glass through a proprietary chemical vapor deposition (CVD) process. Adding the FuseCube Express to their line of machinery will enable Glass + Metal Craft to offer easy-to-clean, low maintenance glass, faster shipping times, and a uniform coating application.
Glass + Metal Craft will be offering the machine-applied Diamon-Fusion coating to their shower doors and full line of architectural glass systems, which includes entrances, guardrails, canopies, insulated glass, structural walls, and much more. The addition of Diamon-Fusion (through the FuseCube Express) on G+MC's line of architectural products means the glass is:
Applied to both sides

Consistent coverage every time

Stain-resistant and easy-to-clean

Protected against hard water and environmental pollutants
However, the real differentiating factor for Glass + Metal Craft when using the FuseCube Express is the machine's proprietary CVD process, which fuses the Diamon-Fusion coating into the glass. The chemical bond created during the application is ultra-thin and highly durable, allowing for a lifetime warranty on residential surfaces and a 15-year warranty on commercial surfaces.
Diamon-Fusion is UV resistant (ensuring long-term stability), eco-friendly, and has been approved by the United States Green Building Council (USGBC), confirming that Diamon-Fusion can contribute to LEED points and making it an excellent pairing for Glass + Metal Craft's architectural systems.
Glass + Metal Craft brings together three divisions: 1) Glass + Mirror Craft, a proven leader in glass fabrication since 1964, 2) Cuda Architectural Metals, specializing in custom metal fabricating, and lastly, 3) Fulcrum ,an architectural resource in design assist projects. With all three combined, G+MC can provide engineered glass, custom metals, and architectural systems to glazier and architects nationwide. "As G+MC has expanded its glass capabilities, upgrading our glass coating system with the FuseCube Express allows us to scale operations accordingly. We want to provide all our customers with enhanced glass that prevents stains, etching, and corrosion." – Andrew Russo, Vice President, Glass + Metal Craft.
"We partnered with Glass + Metal Craft more than a year ago to offer their customers the value-added benefits of Diamon-Fusion. As the coating has grown in demand, we are thrilled to provide the team at G+MC a more efficient way to treat their glass. The FuseCube Express will improve their bottom line and add even more value to their customers." – Carl Christ, VP of Technical Services and Business Development, Diamon-Fusion International
For more information about Glass + Metal Craft or Diamon-Fusion International, please visit https://glassandmetalcraft.com/ or https://www.dfisolutions.com/, respectively.